December 24, 1985
Unadilla, GA
Charlotte, NC
Jacquelyn
Julia, Meredith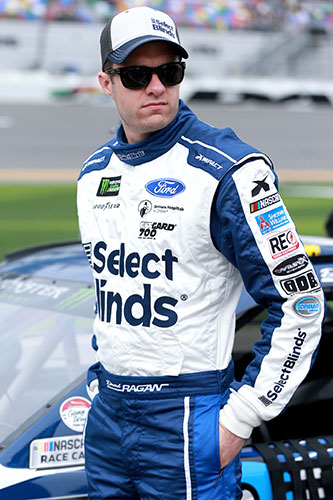 David Ragan first hit the racetrack at age 11, beginning a racing career in the Bandolero Series in 1997 under the guidance of his father, former Winston Cup driver Ken Ragan. After winning two national championships within three years, he progressed to the Legends Cars Series enjoying more success as a young teenager. After turning 16, David competed in the NASCAR Late Model Series at short tracks around North Carolina.
As soon as he turned 18, Ragan made his first foray in NASCAR, running Camping World Truck and XFINITY series events, along with a limited ARCA schedule. His hard work paid off when Jack Roush selected him in 2006 to be the driver of the No. 6 Ford in the NASCAR Cup Series. Ragan proved Roush had made the right decision, finishing the 2007 season as runner-up for the Rookie of the Year title in the Cup Series and winning Rookie of the Year in the NASCAR XFINITY Series.
Over the next 13 seasons, David went on to drive for Joe Gibbs Racing, Michael Waltrip Racing, and Front Row Motorsports. In the summer of 2019, he announced his retirement from full-time competition in the NASCAR Cup Series. Ragan will continue to be a part of the NASCAR industry working closely with Ford Performance on the Next Generation Mustang and the Ford driver development program. While not in the race car, David will continue to be a driver analyst for the Fox Sports team.
From 2006 to the end of the 2019 season, Ragan competed in 606 races in the top 3 divisions of NASCAR. Scoring 4 wins, 33 top-five, 97 top-10, and 6 poles.